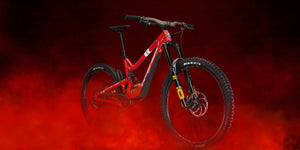 The spirit of Enduro is inspiring. From park hits and afternoon laps with your buddies, to chasing championship seconds at multi-stage Enduro races, nothing elevates adrenaline like it. This feeling inspires the INTENSE Enduro line completely. From our downhill-inspired handling and durability to our pedal-power-friendly geometry, INTENSE has built the most confidence-inspiring Enduro lineup, ever. We're bringing the right tools to Enduro.
TRACER S
The "S" model designation is given to a build/model that pushes the limits of that segment. The new Tracer S model pushes the limits of Enduro/Freeride with a top-spec Ohlins suspension platform, DH casing tires, and powerful Magura MT7 Pro brakeset.
LEARN MORE
TRACER 279 PRO
An Enduro bike needs to do two things: eat-up mountainous terrain on the downhills, and climb back up to do it all again. With our new Tracer we believe we have made a bike that can do just that. Supported by 170mm of travel and a Shimano XT Drive Train on a mullet stance.
LEARN MORE
TRACER 29 FRAME
Looking to build your own Tracer 29? Then check out the Tracer 29 frame. Comes standard with a Fox Float X2 Performance in the rear.
LEARN MORE
in 2019 we set out to update the Tracers center of gravity, getting the shock low in the frame. The end result is truly steller with a confidence inspiring ride that allows you to push your boundaries.